Stroly Inc. (Headquarters: Kyoto, Japan; President: Machi Takahashi) is the official map sponsor of SXSW (South by Southwest), an international event held in Austin, Texas and will support the maps handed out at the event.
Also, a GPS-linked digital illustrated map featuring SXSW's conferences, live events, and exhibition facilities is now available on a special website. A high volume of information is collected on the online map platform "Stroly" to deliver an interactive map experience to attendees from all over the world.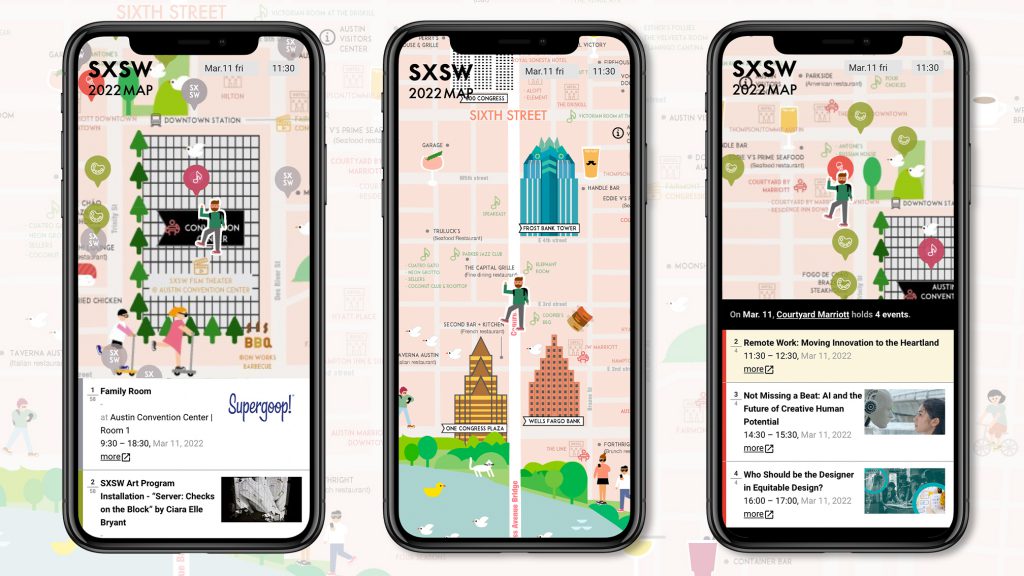 SXSW is the world's largest event held in Austin, Texas, combining the latest technology exhibits, music, and film festivals. The event will be held locally for the first time in three years due to Covid-19 and will run for ten days from Friday, March 11 to Sunday, March 20.
During this time, the entire downtown of Austin will be hosting SXSW, with more than 400 events taking place simultaneously at the convention center, hotels, live music venues, and other locations throughout the city. The importance of maps linked to events and location information (GPS) is extremely high, as attendees will be traveling over a large area and need to keep track of multiple events being held simultaneously.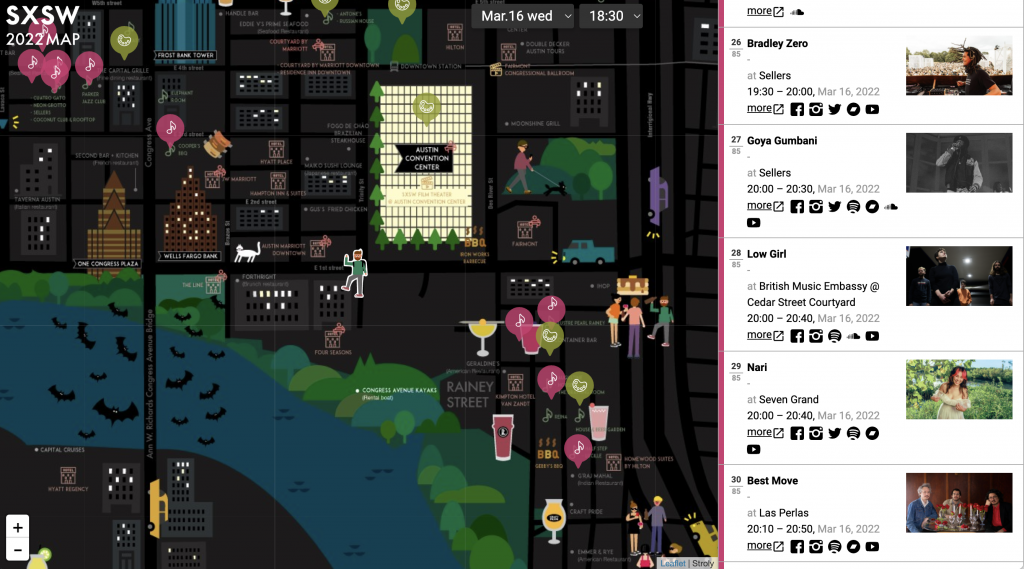 The original digital map that has just been released is accessible on smartphones and PCs via the URL on the special website. It also features nearby event information at a glance by utilizing Stroly's patented technology and linking it with location information (GPS).
A high volume of information on events, conferences, local restaurants, etc., is collected on the "Stroly" map platform. The information on what is being held where is visualized and represented in a highly-designed illustrated map. This intuitive digital map will improve the map experience and collect location information efficiently for participants visiting from around the world.
Map URL::https://sxsw.stroly.com
Stroly Inc. is the first Japanese startup to be selected as one of the 50 finalists from 800 applicants at the SXSW startup pitch event in 2019. We have supported SXSW as an official map sponsor since 2019. We also provide maps in an innovative way suited to SXSW, the world's largest festival of music and film professionals, startups, and major companies from around the globe.
SXSW 2022
Dates: Friday, March 11 – Sunday, March 20
URL: https://www.sxsw.com/
For inquiries regarding this article, please contact:
Stroly Inc.
Attn: Aiba
Email: info@stroly.jp
The official map distributed in Austin during SXSW. (In Austin, your current location is displayed.)