We are pleased to announce that Stroly Inc. (Head office: Kyoto, Japan; President: Machi Takahashi) has been selected as a startup company for J-Startup, a program promoted by the Bureau of Economic and Industrial Policy.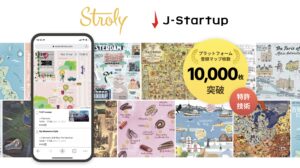 Stroly, the world's only platform of illustration maps, has now more than 10,000 maps, registered from more than 40 countries around the world, and has been active globally, including providing maps to SXSW in the United States. In recognition of its achievements, Stroly is selected as the J-Startup company to further accelerate its global expansion.


What is J-Startup?
J-Startup" was launched in June 2018 to create globally active startups. Based on recommendations from proven venture capitalists, new business managers from large corporations, and other external experts, potential companies are selected for this program, where government agencies and private "J-Startup Supporters" provide intensive support. The Ministry of Economy, Trade and Industry (METI), Japan External Trade Organization (JETRO), and New Energy and Industrial Technology Development Organization (NEDO) serve as the program's secretariat.
J-Startup: https://www.j-startup.go.jp/
Reasons for J-Startup recommendation
"A completely new service that combines illustration maps and location technology. It has established a dominant position not only in the tourism field but also in the area branding field. They were selected as a finalist in the SXSW pitch and have high expectations globally."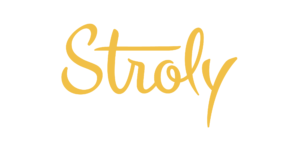 Stroly's Global Expansion
Stroly is the world's only platform for the submission of illustration maps, with more than 10,000 maps aggregated and registered in over 40 countries. Stroly has been selected as an official map sponsor of SXSW in the U.S., and is now looking to expand globally. Stroly is also a founding member of Innovator's Path, an organization that brings together startups and other companies based in Kyoto to promote activities that lead to business expansion with the support of the U.S. Embassy.
About Stroly
Stroly = Stroll + Story, the concept is "Share the way you see the world" We believe in the potential of maps as a medium and aim to contribute to the creativity and diversity of the world by evolving it with cutting-edge technology.
Stroly's maps maximize the attractiveness of an area, allowing users to stay and explore while enjoying the local culture. As the world's only platform that combines illustrated maps and location-based technology, Stroly has already been introduced in numerous locations, including the Tokyo Metropolitan Government, Kyoto City, and SXSW. Stroly offers a new experience that combines technology and creativity.
Stroly is the first winner of Upgrade with Tokyo, the first Japanese finalist at SXSW Pitch, a founding member of the "Innovator's Path," and a J-Startup selected company.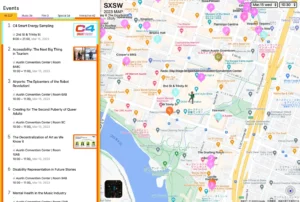 https://sxsw.stroly.com/
SXSW, held in Austin, Texas, USA from March 10-19, 2023, will feature more than a hundred events taking place in parallel during the same time period,
The events that take place at the same venue vary depending on the time of day.
We created this map to synchronize the event information with the local time and efficiently guide SXSW attendees to more events at the same location at different times,
Many people, regardless of nationality, who attended SXSW said "I was able to efficiently attend the sessions and events I wanted to hear about," and "I mainly use Stroly's MAP because the official paper map was too complicated and I couldn't find where I was.
For business inquiries, please contact us at
https://biz.stroly.com/
Stroly is hiring for global expansion!
Would you like to challenge the new field of map media with us?
We are now recruiting PR staff and engineers.
https://corp.stroly.com